Welcome to Our Store
Dr. Phone Fix - NE Calgary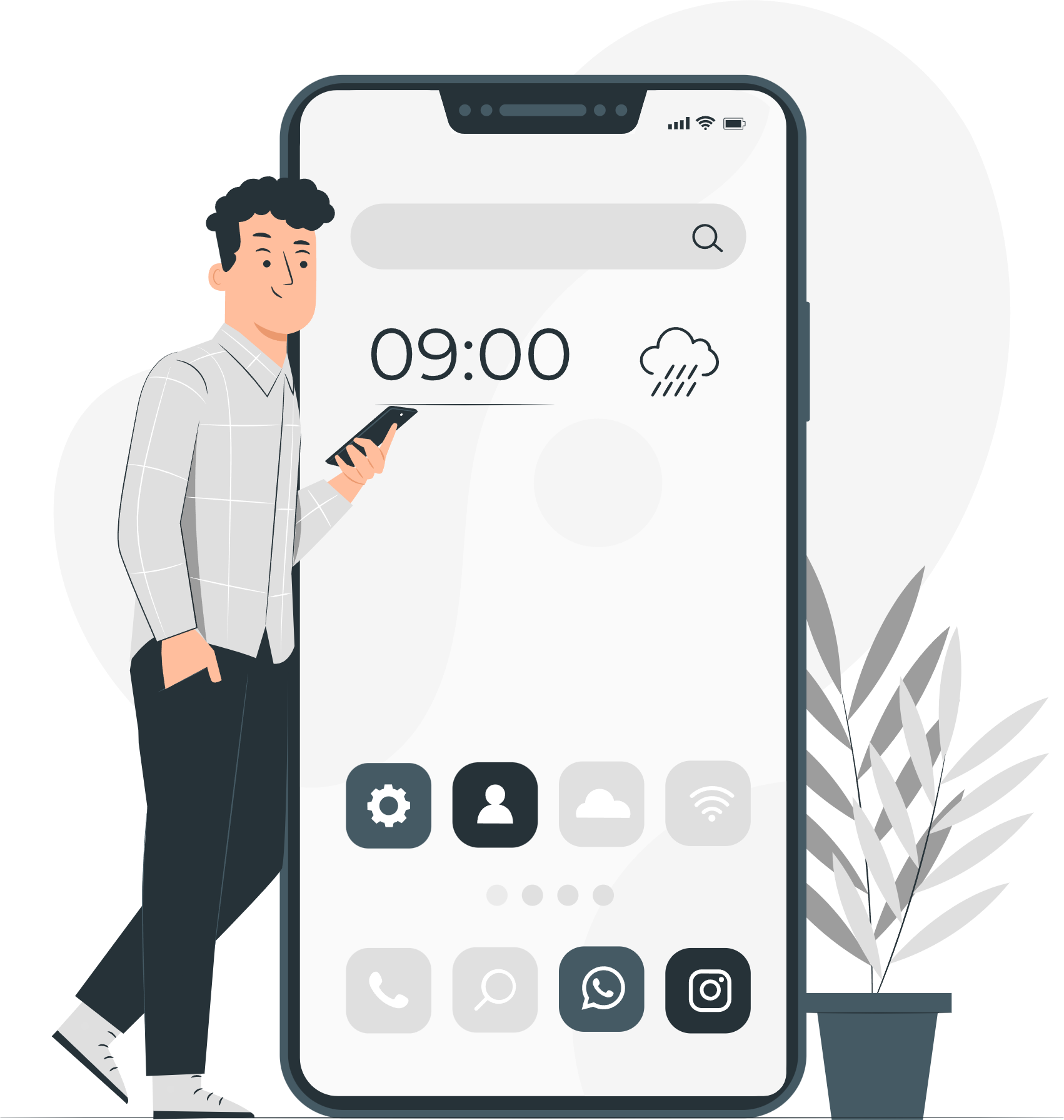 About Dr. Phone Fix - NE Calgary
Apple and Samsung are well-known names in the electronics industry. They have a distinct market niche with their goods' designs, security, elegance, and cameras. We know that when your electronics malfunction, it can interrupt your everyday tasks and obligations. Get iPhone fixing, iPad screen replacement, or Samsung Screen replacement and restoration at Dr. Phone Fix at reasonable prices. Our knowledgeable staff is here to assist you around the clock. Let us provide high-quality repair services to get your life back on track.
Professional iPhone Cell Repair
Having a broken handset or laptop screen is a disaster in the modern digital world. For your several activities, you need these electronic devices. Visit us to enjoy the best iPhone maintenance services. Your broken handset will receive new life thanks to our screen repairs for the iPhone, iPad, and Samsung models. Our premium cell phone service range includes screen replacement, Mike and speaker fixing, managing the loose headphone jacks, and battery replacement for various brands, including Apple and Samsung. Learn more about our beneficial services in Calgary by reading on.
Cellphone Repair With A Personal Touch
Being your one-stop solution for all iPhone cellphone repair near you, we offer an exclusive range of services for your favorite iPhone, Samsung, Motorola, and Google handset repair and maintenance needs. All the phone repair services in NE Calgary we offer are of high quality and at affordable prices. Dr. Phone Fix is the best choice for you if you want a successful iPhone and smartphone screen, battery, and other repairs and replacements. Whatever problem your favorite handset is facing, our expert technicians will identify and fix it in no time without damaging it. Our technical crew holds specialization and expertise in iPhone and other different brands' cell phone manufacturing and functioning so you can rely on our services.
Get your pc repaired in NE Calgary.
With years of expertise in Mac and PC repair, we're the reliable business that locals turn to when their computers aren't operating as they should. We will come to you wherever you are in Northeast Calgary, saving you the trouble of transporting things downtown or to an expensive store. Apple, HP, Asus, Dell, and Sony models and brands of PCs are all serviced by our knowledgeable technicians. From CPU management to Speaker installation, we aim to improve your device's performance and lifespan.
Sell Your Phone and PC
If we determine that your iPhone or laptop is beyond restoration or if you have decided to Sell your Device to upgrade, we make it simple to sell your iPhone, Mac, and laptop. Additionally, we vow to give you a fair price for your devices if you have a smartphone that you want to sell rather than repair.
Best Cellphone, and PC Repair Services
If you're seeking the best Computer Repair Service in Northeast Calgary, speak with our professionals. Once your lovely iPhone or Mac is fixed for its damages, you can check and use it as earlier. All the parts we replaced to restore your device are original and guaranteed products. To plan your appointment or find out more about our services, get in touch with our store immediately. Call us at 403-764-3565 if you want to discover more about our iPhone, iPad, cellphone, Mac, and Computer repair services in NE Calgary.
Get in touch with us
3545 32 Ave NE #240, Calgary, AB T1Y 6M6, Canada
Store Hours
Monday
09:00am - 07:00pm
Tuesday
09:00am - 07:00pm
Wednesday
09:00am - 07:00pm
Thursday
09:00am - 07:00pm
Friday
09:00am - 07:00pm
Saturday
09:00am - 06:00pm
Sunday
10:00am - 06:00pm
Ask Your Query
Free Evaluation

Save time and money by diagnosing what's wrong with your smartphone for free.

Price Matching

Get the best deal on your repair! We provide the best-in-industry prices.

Quick Turnaround

The majority of our repairs may be completed in less than 30 minutes.

Lifetime Warranty

All parts and labour involved with your repair are covered by a limited lifetime warranty!
Brands we Service
What Our Customers Are Saying
User Rating 4.9 out of 5
Body Design Academia Academia

2 months ago

I had the most incredible experience at Dr. Phone Fix, and I'm thrilled to share my positive feedback. It's not every day you come across a service provider that goes above and beyond, and Dr. Phone Fix did just that. Firstly, their dedication to customer satisfaction was evident when they went the extra mile to accommodate my needs. I had a phone emergency and needed it fixed urgently. Despite the late hour, they stayed open to ensure my phone was up and running again. Their commitment to their customers' convenience is truly commendable. Now, let's talk about the cost. I had initially received an astronomical quote from Apple to fix my phone, a whopping $700! However, Dr. Phone Fix stepped in and offered their expertise at a fraction of that price, only $160! I couldn't believe the savings. Not only did they provide top-notch service, but they also did it without breaking the bank. But the surprises didn't end there. Dr. Phone Fix also offered the best price on a phone case, further demonstrating their commitment to affordability and value. As someone who frequently deals with phone repairs, including for my corporation, I can confidently say that Dr. Phone Fix is the best phone repair shop I've ever encountered. Their service is exceptional, their prices are unbeatable, and their dedication to their customers is unmatched. If you ever find yourself in need of phone repairs, I wholeheartedly recommend Dr. Phone Fix. They've earned my trust and loyalty, and I'm grateful for the fantastic experience they provided. Thank you, Dr. Phone Fix, for your unbelievable service

I recently had the pleasure of visiting DrPhoneFix Northeast for a repair, and I must say, their warranty and discounts are truly exceptional. I highly recommend their services to anyone in need of phone repairs. First and foremost, their warranty policy is outstanding. DrPhoneFix Northeast offers a comprehensive warranty on all their repairs, ensuring that you can have peace of mind knowing that your device is protected. In the unlikely event that any issues arise after the repair, they will promptly address and resolve them without any additional charges. This level of commitment to customer satisfaction is truly commendable. Furthermore, their discounts and promotions make their services even more appealing. DrPhoneFix Northeast frequently offers attractive discounts on various repairs, making it more affordable for customers to get their devices fixed. This not only demonstrates their dedication to providing value for money but also shows their willingness to go the extra mile for their customers. The repair itself was executed flawlessly, and my phone now functions as good as new. The technicians at DrPhoneFix Northeast clearly possess the skills and expertise needed to handle a wide range of repairs, ensuring that your device is in safe hands. In conclusion, DrPhoneFix Northeast is a top-notch phone repair service that offers an exceptional warranty and attractive discounts. Their commitment to customer satisfaction, coupled with their skilled technicians and friendly staff, make them a standout choice for all your phone repair needs. I highly recommend their services to anyone seeking reliable and affordable repairs.

Sarbjeet singh Virk

3 weeks ago

Excellent service, very quick and offering competitive pricing best in calgary

My basement flooded. Dropped my phone in the water it was toast. These guys went above and beyond for me, all within 1 hour! Although my phone was a little beyond repair( Sim card won't work ) they were able to get me all my info and the screen working. When I came in the next day to let them know it didn't work they scheduled in immediately for a tech to take a look. They did everything they could. Explained every step of the process. I'll never take a broken phone anywhere else, the cost, the time, as well as the customer service was above and beyond!

Amin Charania

a month ago

Siri on my iPhone X stopped working apparently because of a failed microphone. These guys fixed it. Dealt with Prable who is attentive, cooperative and professional. Took longer than originally promised, but at the end the repair was done successfully and satisfactorily. Charges were reasonable. It has only been one day since repair but so far so good.